DBDT II Artistic Director
Support Relentless Excellence!
Make a Gift Today!
Individual Leadership
Choose a Giving Level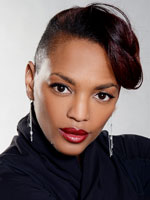 Nycole Ray
Artistic Director, Dallas Black Dance Theatre II
A Detroit native, Nycole Ray graduated from The California Institute of the Arts with a Bachelors of Fine Arts in dance. She received additional training at the California State Summer School of the Arts, Wayne State University, and as an exchange student at the London Contemporary Dance School in England. Mrs. Ray has performed with the Bruce Wood Dance Project, Walt Disney World Entertainment, Christopher and Friends directed by Christopher L. Huggins, the Lula Washington Dance Theater, Dayton Contemporary Dance Company II and the Zadonu African Dance Company. She has worked with noted choreographers such as Donald McKayle, Dianne McIntyre, Christopher L. Huggins, Alonzo King, Donald Byrd, Bruce Wood®, Rennie Harris and Camille A. Brown. In addition to her concert dance performances, and has appeared in music videos, industrials in the U.S. and Europe.
Nycole is the 2013 recipient of the Natalie Skelton Award for Artistic Excellence from the Dance Council of North Texas.She teaches for the Dallas Black Dance Academy and has set choreography on Wayne State University's Dance Company, Dallas Black Dance Theatre, Dallas Black Dance Theatre II, and the Milwaukee Dance Connection. Mrs. Ray was commissioned by the Dallas Museum of Art and created, Art on 5th Avenue based on the contemporary jewelry designs of Author Smith, The Subtle, The Sum…Give More Than You Take, based off of the Jim Hodges: Give More Than You Take exhibit in 2013, The Line of Beauty that Runs Through, based off of works from The Body Beautiful in Ancient Greece exhibit along with works from their permanent collection in 2013, Le Afrique Masquerade for the The Art of Disguise exhibit of African Masks in the fall of 2010 as well as a commissioned work for the Dallas Holocaust Museum in 2009.
Mrs. Ray was a featured choreographer for the Tenth Annual Choreographers Choice Series in Dallas; and her work premiered in Vienna's 2003 International Black Dance Festival. She accompanied Dr. Chuck Davis, as an invited guest, during his annual pilgrimage to Africa, and has been a teaching Assistant and adjunct at Texas Woman's University. Mrs. Ray received the 2011 Artful Dancewear Teachers Scholarship through The Dance Council of North Texas to continue her studies, and has been accepted as a candidate to receive her certificate as a certified Dunham Technique Instructor.
She is very involved in the community as an individual and is a member of Delta Sigma Theta Sorority, Inc. She is the Director of Dallas Black Dance Theatre's Summer Intensive program and has served in the past as rehearsal director for the Bruce Wood Dance Project, Assistant Rehearsal Director for Dallas Black Dance Theatre and the Director of Bloom, Dallas Black Dance Academy's Performing Ensemble. This marks her 6th season as the Artistic Director for Dallas Black Dance Theatre II, and marks her eighteenth year with Dallas Black Dance Theatre.
Photo by: Brian Guilliaux