Support Relentless Excellence!
Make a Gift Today!
Individual Leadership
Choose a Giving Level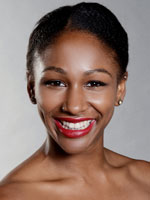 Akilah Brooks
Baltimore native Akilah Brooks is a graduate of Point Park University with a Bachelor's of the Arts with a concentration in modern dance. She received her degree with honors from the Baltimore School for the Arts. Akilah has worked with noted choreographers such as Christopher L. Huggins, Troy Powell, Mark Morris, Keisha Llama and Garfield Lemonius to name a few. This is her first season with Dallas Black Dance Theatre II.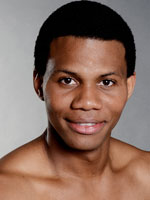 Ricardo Burgess
A native of Jamaica, Ricardo Kristof Burgess study at the Edna Manley College of the Performing and Visual Arts.  He received additional training for the City Dance Conservatory (2013/ 2014), The Company Dance Theatre, Jamaica and L'Acadco.   A Principal Members of the Stella Morris Dance Ensemble, Jamaica and Founding Member and  President of the Old Harbour High School Dance Society(2005-2007). He was also a member of the Brightport Dance Ensemble, which won Best Professional Dance Group for the Jamaica festival of the visual and Performing Arts (2005). He also choreographed many nation award winning works for the Jamaican National Festival of the Performing and Visual Arts. This is his second season with Dallas Black Dance Theatre II.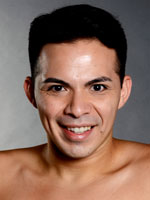 Eduardo Castrejon
Originally from Acapulco Guerrero Mexico, Eduardo has lived in Dallas since his early teens.  A graduate of Sunset High School, Eduardo received his Associate in Arts degree from Mountain View College where he was a member of the MVC dance company. He began his dance training with Ballet Folklorico Hispano de Dallas, under the direction of Guadalupe and Manuel Godinez.  He later went on to train in ballet and modern with professors John Merrifield and Estela Tejeda.  He has also trained at Etgen-Atkinson School of Ballet (Dallas Met) where he performed in their production of Coppelia in 2011 and at Contemporary Ballet Dallas.   Mr. Castrejon was a scholarship recipient for the 2014 Dallas Black Dance Theatre's Summer Intensive Professional Dance Workshop.  This is his second season with Dallas Black Dance Theatre II.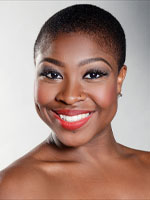 Lailah Duke
Lailah Duke is a 2015 graduate of Howard University with a degree in Dance. Originally from San Francisco, California, Lailah owes her first experiences in dance to Destined 2 Dance Studio and Performing Arts of Oakland, CA. Lailah has had the privilege to perform several works by Lion King Cast member Ray Mercer, The Alvin Ailey American Dance Theater's company member Hope Boykin, Arch Choreo 40's founder Jennifer Archibald, former Philadanco company member Maverick Lemons, and a multitude of other esteemed artists. This is Lailah's first season as a member of Dallas Black Dance Theatre II.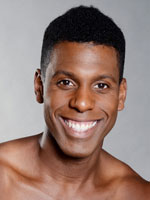 Richard Falls, Jr.
Richard Falls, Jr.  was born in raised in Chicago Illinois. He started his dance training at Illinois State University where he received his bachelor's in music education with a dance education minor. After graduating Richard began his dance career in Chicago dancing for such companies as Joel Hall Dancers, Nomi Dance Company and Inaside Dance Chicago.  Richard has also received much post graduate training from Visceral Dance Center Chicago. In addition to his training in classical styles Richard is also an experienced teacher and competitor many Swing, Latin and Ballroom styles. Richard is excited to be starting his first season with Dallas Black Dance Theatre II.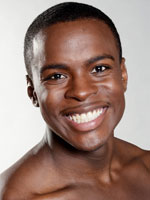 Herman Houston III
A Dallas native, Herman Houston III graduated from the Dallas Can Academy and attended the American Music and Dramatic Academy (AMDA) in Los Angeles, CA. He has performed with Happy Nia Dance Theatre and was a past member of Bloom, Dallas Black Dance Academy's Performing Ensemble. Herman has attended the Complexions Contemporary Intensive, as well as, numerous Dallas Black Dance Theatre Summer Intensive's and the Academy Summer Enrichment. This marks Herman's third season with Dallas Black Dance Theatre II.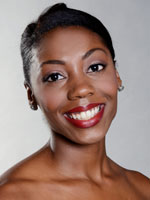 Sierra Jones
A native of Ft. Washington, MD, Sierra Noelle Jones is a 2015 honors graduate from Virginia Commonwealth University with a BFA in Dance & Choreography. Ms. Jones graduated high school from Baltimore School for the Arts in Baltimore City, MD (2011). Prior to high school Sierra studied with Donna's Dance Company, The Dance Institute of Washington, and The Dance Theatre of Harlem's Pre-Professional Residency program. Sierra also received additional training from summer programs such as Philadanco as a D/2 member, The Ailey School, Atlanta Ballet, Dance Theatre of Harlem, The Virginia School for the Arts, and The Dance Institute of Washington. She has also performed under many choreographers through VCU such as Dr. E. Gaynell Sherrod, Christian von Howard, Martha Curtis, Melanie Richards, Autumn Proctor Waddell, and Nathan Trice. Sierra is a certified Zumba Instructor and this marks Sierra's first season with Dallas Black Dance Theatre II.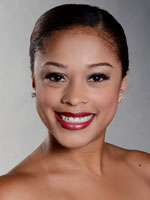 Christen Ashley Williams
Assistant to Director
Christen Ashley is a recent BFA recipient from Howard University. She has had the opportunity to work with Zane Booker, Kathy Smith, Hope Boykin, Assane Konte, Ray Mercer, Kim Bears-Bailey, and others. She has also had the privilege to perform works choreographed by Dr. Sherill Berryman-Johnson, Pearl Primus, and Ronald K. Brown. She has toured with the Howard University Dance Ensemble to Dallas, Philadelphia and Toronto, Canada. Christen was the assistant choreographer for the Howard University Theatre Arts production of For Colored Girls Who Have Considered Suicide When The Rainbow Is Enuf. Recently, Christen has performed with Alfre Woodard at the Lincoln Memorial for Constitution Day, and was grateful for the opportunity to perform at two Inaugural Celebration's for the re-election of President Barack Obama. Christen has also performed with Anthony Hamilton on TV1's A Christmas Special. This is Christens second season with Dallas Black Dance Theatre II.
Photos by: Brian Guilliaux