Support Relentless Excellence!
Make a Gift Today!
Individual Leadership
Choose a Giving Level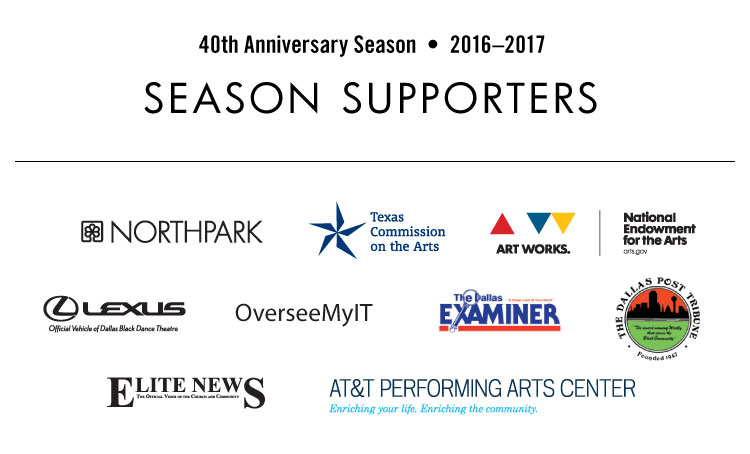 Individual Donors
ARTISTIC SPONSORS
DBDT Resident Choreographer
Andy McCarthy & Samara Kline
DBDT Male Dancers
Diane & Hal Brierley
DBDT Dancers
Norma & Don Stone
DBDT Choreography
NorthPark Center & Nancy A. Nasher, David J. Haemisegger
INDIVIDUAL LEADERSHIP ANNUAL FUND DONORS*
October 15, 2015 – October 15, 2016
Visionary | $25,000 and Above
Andy McCarthy & Samara Kline ~
Choreographer | $10,000 -$24,999
Barrett Family Foundation Fund of Communities Foundation of Texas
Diane & Hal Brierley ˜
Director | $5,000 - $9,999
Suzanne & Enrico Bartolucci
Lisa Simmons
Norma & Don Stone
Principal | $2,500 – $4,999
Molly Byrne / TurningPoint Foundation
Joleen + & Jim Chambers
Barry Hoffman
John & Gail Humphreys
Soloist | $1,250 – $2,499
Kalita & Edward Blessing
Joe & Dr. Angie Cayton-Lodor
Carol Crowe
Terrence Maiden + *
Daron & Avalyn Pace +
Georgia Scaife +
Pam & Kevin Stephens
Kim & James Strong
Paulette + & Herb Turner/ Integrated Leadership Concepts Inc.
Ensemble | $500 – $1,249
Anonymous (2)
Valerie L. Adair
David & Chantel Adams
Christi Blakelock +
Annabelle Brown
Marie Diaz +
Mrs. Robbie Douglas +
Zenetta S. Drew **
Ann E. Dudley +
Dr. & Mrs. William J. Frazier
Gilbert + & Jacquelyn Gerst
Rita Sue & Alan J. Gold Philanthropic Fund of the Dallas Jewish Community Foundation
Stephanie L. Johnson +
Demetra Jones, DDS
Marianne Lamont +
Richard + & Kasha Lee
James Lester
Clem Maddox +
Dr. Shea Manigo +
Yvonne S. Manuel, Ph.D.
Patricia & Claude Maples +
Shelia McAfee +
Mitch McCasland
Ms. Lee McKinney +
Heidi K. Murray +
Monica Payne/Morgan Stanley
Pian Silverman Family Foundation
Caren H. Prothro/Vin & Caren Prothro Foundation
Frank Samuels +
Carlis Scaife
Jack Skinner + / Oversee My IT, LLC
Richard Smith
Robert Tapley +
Becky & Brad Todd
Linda M. Todd +
Petre White +
Brandy Moriah Wicker **
Lisa P. Young +
Dancer | $250 – $499
Latisha Brandon
Cinda Brea
Saretta M. Brooks
Greer L. Christian + *
Ingra Conley
Mark D. Cooks +
Bob Dais
Art & Gwen George
Helen Giddings
Marie Gwyn
Sylvia Hougland +
Felicia Z. Lee
Janice Masterson
Betty Boyd-Meis
Sheena Payne +
Anthony & Charis Peebles
Lawanda Penland-Dunwell +
Willow Sanchez +, Peter & Lana Lewis
Jeannette Siegel
Kyle Talkington
Kristen Y. Vogel **
Dan Van Pelt
Anthony D. Ware /Grassroots Filmworks
Apprentice | $100 – $249
Anonymous (1)
Suzanne & Ansel Aberly
Jeanette Allen
Shirley Allen
Fernando M. Aguirre +
Kimberly Aldrich-Bickham
Kathryn C. Anderson
Claudia Bailey
Carey & Lynn Baldwin
Barbara Bardwell
Bate + & Leyla Bate
Cynthia Becker and Ricardo Roberto
Nancy Beckham-McDonald
Michael Bowen
Brendia Brewer
Carole H. Brown
Shelby J. Brown
Cheryl Denise Brownlee
Robin M. Caldwell
Ramona Chance & Gail Eubank
Shelia Cheatham-Martin
Brent Christopher
Hon. William B. Churchill
Jerome Coleman
Eleanor Crockett
Ms. Kwajalein Douglas
Drs. D.G. & Ellen Edwards
Halice J. Furtado **
Charles Garcia
Charles & Agnes Greene
Dr. Giley Griffin
Charman & Shelley Harrington
Keena L. Harris
Jeremy Hastings
Calvin & Glendora Hilton
Dale Hinz
Smith & Janice Howard
Josie Johnson
Quo Johnson*
Shalita Jones
Dr. Lisa & Mr. Keith Kennedy
Reed Koehnen
Keith Lewis
Ramona Logan **
Randy & Kathy Luster
Jill & Brent Magnuson
Rosemarie Marshall & Lee Wilkins
Maranatha McLean
Joyce and Harvey Mitchell
Kristin & Bruce Moore
Mr. and Mrs. James T. Mosley
Robert Olson
Lori K. Orta, P.C.
Susan Oviatt
Menaca Padakandla
Leta Wilson Parker
Brenda J. Peters
Dr. Kenneth & Elma Ponder
Liza & Brett Raynor
Amatoya Ribail
Cheryl & Henry Richards
Susan Sanders
Keira Scanks
Michelle Simpkins
Guy Sledge
Talicia Smart
Doris Smith
Diane Stephenson +
Cheryl Thompson
Celestine Tisdale-Barnes
John Trimble**
Mary Trusty
Ulivia Gilbert
Corlis Vance
George Vaults
Kena Veasey
Cheryl B. Wattley
Ann Williams +**
Kevin Williams
LaTricia Willis
Michael & Jennifer Wimbish
Cheri Witter
Beverly T. Wooten
John Wooten
Heather Herndon-Wright
Associate | $25 – $99
Anonymous (6)
Felicia Allen
Megan Baldwin
Meg Barry
Renee Battle
Richard Battle **
Dr. Sharon L. Blackman
Helen Boehning
Sonya Edmond Braddy
Janine Brand
Cathy J. Bridges
Carol Brown
Ezell Brown
Dr. Jeremy & Laura Jo Brown
Winnie Buford **
Cori Byrd
Johnnie Campbell
Grover & Yevette Carter
James & Patricia Chatt
Mr. and Mrs. Terrence Chavis
Alicia Chick
Mr. & Mrs. Gail N. Crump
Tivona Curtis
Racquel Douglas
Valerie Durant
Robert & Shirley Elfont
April Ellis
Kevin Felder
Melissa Fleming
Annette Flowers
Shelly & Owen Foster
Dawn Funches-Allen
Cory Gibson
Jim & Ann Hambleton
Jonathan Harlos **
Craig Haynes
Rue and Tuck Henry
Jean T. Henson
Pamela R. Hill
Tasha Hubbard
Martha Jefferson
Mrs. Jessalyn Johnson
Sherita Jones Olla
Ray Kenny
Roxie & Trey King
Emelda Lawrence
Craig Lewis
Gloria B. Lockett
Melissa & Kevin Malonson
Darina & Melvin Manning
Gwen Manor
Andrea Mason
Jeff Mason
Mafe Massengale **
Connie McDonald
Mike McGary
Deborah & Jim Nugent
Omoniyi Obioha **
Nathan Olson
Kimberly M. Persley
Dr. and Mrs. Melvin R. Platt
Jiaan Powers & Gary Patton
Steven & Nycole Ray **
Desma Reid-Coleman
Cassandra Rivers
Manjuel & Veronica Robinson
Alfreda E. Rollins
Karen Saddler
Luanne Schultz
Phil & Judy Smith
Sandra T. Smith
Stacie Smith
Dr. Robert L. Stinnett
Clevette Sykes
Laurie Telfair
Quincy Thomas
Jeff Underwood
Sharman Vesecky
Joy L. Wallace
Frances Walton-Franklin
Candace Weber
Dorothy Whaley
Brittny Williams
Katharine Williams-Hunter
Arlene Wilson
Alexis Yancey
Jacquelyn Young
Melissa M. Young **
Gifts Made in Honor of
Mrs. French L. Beckham
By Nancy Beckham-McDonald
Alex Clair
By Robert & Shirley Elfont
Katricia Eaglin
By Dr. & Mrs. William J. Frazier
Richard A. Freeman, Jr.
            By Joe & Dr. Angie Cayton-Lodor
Hadleigh & Julia Raynor
            By Sharman Vesecky
Doris Scott
By Leta Wilson Parker
Norma & Don Stone
By Rita Sue and Alan J. Gold Philanthropic Fund of the Dallas Jewish Community Foundation
By Joan Kramer
By Michelle Miller
Darnetta Strong
By Zenetta Drew
Reverend Chris Terry
By Ramona Chance & Gail Eubank
Ann Williams & Zenetta Drew
By Jill & Brent Magnuson
Contributions to the Endowment Fund
~ Indicates multi-year commitment
• Aspiring Leadership Society
** DBDT staff
+ DBDT board member