Support Relentless Excellence!
Make a Gift Today!
Individual Leadership
Choose a Giving Level
Claude Alexander III
A native of Washington, D.C., Claude comes to Dallas Black Dance Theatre after attending Towson University in Towson, Maryland. He received additional training from The Ailey School as a Fellowship student, Parsons Dance and Dallas Black Dance Theatre's Summer Intensive professional trainings on full scholarship. Claude's previous dance experience includes dancing with Dishibem and Dance RINK, both of Baltimore, Maryland and Eudora Ballet. He has performed works by Alvin Ailey, Elisa Monte, Hope Boykin, Dianne McIntyre, Bridget L. Moore and Christopher L. Huggins. He has also had the opportunity to set works on DBDT, DBDT II, Allegro and the Senior Performing Ensemble.
Hana Delong
Hana Delong, originally from Orlando, Florida, received her training at the Dr. Phillips High School Dance Magnet and Orlando Ballet School. She received her BFA from Adelphi University and studied as a scholarship student at The Ailey School for 3 years. She has worked with choreographers such as Doug Varone, Alexandre Proia, Ray Mercer, Matthew Rushing and has danced in Alvin Ailey's Memoria and Revelations. Hana performed with Dallas Black Dance Theatre II for one season. This marks her first season with Dallas Black Dance Theatre.
Kayah Franklin
A native of Sacramento, California, Kayah received her BFA in Dance Arts from Howard University under the tutelage of Dr. Sherrill Berryman-Johnson and Pat Thomas. Kayah has studied with The Maryland Youth Ballet, The Dance Institute of Washington, Earl Mosley Institute of the Arts and Dallas Black Dance Theatre. She has performed original works by choreographers such as Hope Boykin, Ray Mercer, Baba Chuck Davis and Darrell Moultrie, and also as a guest artist with Kankouran West African Dance Company. Kayah has performed in Fame: A Stage Play (The Life Center, MD) and FLY (Dallas Theater Center, TX). She danced two seasons with Dallas Black Dance Theatre II.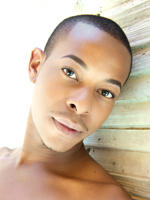 Richard A. Freeman, Jr.
Resident Choreographer
A native of Washington, D.C., Richard began his training with District of Columbia Youth Ensemble and the Washington Ballet. He received additional training from Duke Ellington School of the Arts, as well as Virginia Commonwealth University. He danced professionally with Elisa Monte Dance. Richard  has choreographed works for the Atlanta Dance Connection, Texas Ballet Theater School,  Dallas Black Dance Theatre and DBDT II. He is the former Assistant Director for DBDT's Bloom Performing Ensemble and currently a teacher in the Dallas Black Dance Academy.
Alyssa Harrington
From Lincoln, Nebraska, Alyssa began her dance career at The Pure Movement Dance Institute and with UNO's The Moving Company where she was accepted as the youngest member in school history. She attended many summer Intensives on full scholarships including Kansas City Ballet, The Ailey School, and Dallas Black Dance where she was a demonstrator for Dudley Williams, and Milton Myers. She attended The Ailey School as a level 1 scholar for two years. During her training in 2011 she received an apprentice position with SD|PrismDance. She was an active performing artist in J.U.S.T.I.C.E League Dance Collective, and SD|PrismDance while performing with Dallas Black Dance Theatre II for the 2012-2013 Season.
Michelle Hebert
Raised just outside of Detroit, Michigan, Michelle received a BA in Dance Performance from Point Park University in Pittsburgh, PA. She received additional training from Gus Giordanos and Jacob's Pillow Contemporary Traditions Program as a scholarship student. As a professional dancer, she has been a member of Garth Fagan Dance in Rochester, NY, Ballet Creole in Toronto, Canada and as a guest artist with the National Dance Theatre Company of Jamaica in Kingston. She is a teacher for Spyceland Dancers summer program in St. George, Grenada. Michelle currently teaches ballet and modern techniques in DBDT's Academy and has previously directed DBDT's Academy Junior Performing Ensemble. She is currently the director of the Senior Performing Ensemble.
Keon K. Nickie
From Arouca, Trinidad and Tobago, Keon began his dance training in his native country before immigrating to the United States to further his education and dance studies. In 2007, Keon graduated with a BFA from Long Island University in Brooklyn. He has studied with The Ailey School, Balance Dance Theatre, Ballet Hispanico, Cheryl Byron and Something Positive, Deeply Rooted Dance Theater, Eclectic Dance Theatre, and Pure Elements. He has performed works by choreographers Gary Abbott, Cheryl Byron, Kevin Iega Jeff, Lisa Johnson-Willingham, Kevin A. Joseph, Bill T. Jones, Mark Morris, Troy Powell, Pearl Primus, Nathan Trice, Dr. Melissa Vaughan, Lakai Worrel, and Obediah Wright. Keon was a previous member of the second company of Deeply Rooted Productions and DanceWorks Chicago.
Sean J. Smith
A native of Vancouver, British Columbia, Sean has received training from The Ailey School, Toronto Dance Theatre and Goh Ballet Academy Canada in Vancouver, British Columbia. He has performed works choreographed by Troy Powell, George Balanchine, Twyla Tharpe, Paul Taylor, George Faison, Robert Battle and Judith Jamison. Sean has previously performed with Ballet Creole and Mascall Dance and as a student with Alvin Ailey American Dance Theater. As a choreographer, he has presented his works as a student at The Ailey School and as a member of Dallas Black Dance Theatre. He has taught the Dance Technique of Lester Horton for The Ailey Athletic Boys Dance Program, Peridance Capezio Center in New York City and currently Dallas Black Dance Academy.
De'Anthony Vaughan
Born in Kansas City, MO, De'Anthony was drawn into dance by his grandmother at the age of 3. She ran a Performing Arts school and introduced him to all forms of dance. Having a preference for tap dance, it was the staff at the Kansas City Friends of Ailey School that fostered his love for the other dance disciplines. He attended The Ailey School on scholarship. He received additional training from the Kansas City Ballet. Prior to joining Dallas Black Dance Theatre, he was a member of the Von Howard Project. He performed in the production of Anything Goes at the Starlight Theatre. An avid tap dancer, he has earned top honors at several competitive showcases throughout his career.
Jasmine White-Killins
Jasmine White-Killins is a May 2013 honors graduate of Southern Methodist University with a BFA in Dance Performance and an honors graduate of the School For Creative and Performing Arts in 2009 in Cincinnati Ohio. Jasmine is a three time fellowship recipient of The Ailey School in 2008 2009, 2010, a summer 2011 scholarship recipient at San Francisco Conservatory, and winter-intensive scholarship recipient of the Martha Graham School in 2010, 2011 and 2012. Jasmine has also studied at Cincinnati Ballet, Dayton Contemporary Dance Theater, and Dallas Black Dance Theatre summer intensives. Jasmine starred in a TV show from 2009–2010 called Taking the Stage as a ballerina entailing her life as a dancer. Jasmine had the opportunity to be cast as a soloist for outstanding choreographers such as, Joost Vrouenrats, Robert Battle, Jessica Lang, Cheryl Chaddick, Max Stone, Bill Soleau, Darrell Moultrie, Kirven Boyd, Troy Powell, Debbie Blunden-Diggs, Darryl Bjoza, and the ballet Serenade choreographed by George Balanchine, staged by Leslie Peck. Jasmine was a member of Dallas Black Dance Theatre II for two years. This is Jasmine's debut season with Dallas Black Dance Theatre.
McKinley Willis
McKinley Willis is a Dallas native. She began her dance training with the Dallas Black Dance Academy and eventually became a teacher. She received her advanced ballet training at Ozsoy's School of Ballet. McKinley is a 2015 graduate of the University of Oklahoma and a 2011 graduate of Booker T. Washington High School for the Performing and Visual Arts. At both these schools, she performed works choreographed by Jessica Lang, Dwight Rhoden, Donald McKayle, and José Limón. Willis is a proud 2010 recipient of the Texas Commission on the Arts Young Masters Scholarship and attended summer dance intensives at the Ailey School, Alonzo King's Lines Ballet, The American Dance Festival, and Dallas Black Dance Theatre. She made her debut with the Bruce Wood Dance Project in 2011 as an apprentice and again as a performing member in 2015. This season is her first season with Dallas Black Dance Theatre. She would like to thank her family for supporting her in her journey.
Kimara Wood
Kimara received his BFA in Dance and Choreography at Virginia Commonwealth University, and has performed at the historical Warner Theatre in Washington DC, where he won a dance scholarship through the Washington Post's Music and Dance Scholarship Awards, in 2007, hosted by Jim Vance and Jazmine Guy. He appeared on the hit TV show, "So You Think You Can Dance," making it all the way to Las Vegas in 2009. He has recently studied Brazilian Martial Arts, Capoeira, under Meistre Panao. His future aspirations are to open a studio in Japan, and to create genre of dance combining modern and Hip-hop. Prior to coming to Dallas, he was a member of Strictly Rhythm Dance Center in Alexandria, VA. Last year, Kimara was a member of Dallas Black Dance Theatre II.